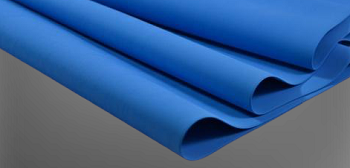 Silicone rubber is physiologically inert, thus making it the preferred choice of medical, pharmaceutical and food processing industries. Silicone have comparatively low mechanical properties, tensile strength, elongation and tear strength, however they keep constant even at high temperatures but should not be used with high- pressure steam. Its resistance to oil and hydrocarbon products is fairly limited and similar to that of Chloroprene rubbers. Reasonable resistance to a whole range of general chemical products, but acids, alkalis, esters and kerosene should be avoided. Silicone has excellent resistance to heat (dry air), at +200°C intermittent. It remains flexible at low temperatures of -70°C and it is also resistant to ultra-violent light, Ozone and weathering. Exhibits low inflammability and low smoke toxicity. It has good electrical insulation properties.
If required, we supply technical rubbers in the form of semi-finished or finished products. Most of the standard technical rubbers in our range are permanently in stock, so we can offer not only very short delivery or production times, but also the possibility of producing atypical variants from a single piece.
Delivery times: It mainly depends on the batch size and the complexity of products. Our standard delivery time is usually no more than one week of placing the order. Given our warehouse stock we are able to offer production on short notice in emergency situations.
Silicone Rubber sheet:
SPECIFIC GRAVITY

HARDNESS




(±5)

TENSILE STRENGHT (MIN) 

ELONGATION at BREAK (MIN)

OIL SWELL in ASTM OIL 903

COMPRESSION SET




70 °C/22 h

TEMPERATURE RANGE

gm / cm3

Shore A

kg / cm2

%

%

%

°C

SI

1.16

60

80

300

–

40

-60 – +226
STANDARD SIZE

COLOUR

WIDHT: 1.2 / 1.4 / 1.5 Mtr

LENGHT: 10 Mtr
NOTE

1). One side or both side smooth or fabric finish can be supplied.

2). Specifications are subject to change without notice.