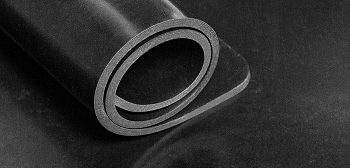 EPDM or Ethylene Propylene Diene Monomer is known for working in operating temperature ranging from -45°C to + 120°C. It is highly recommended for outdoor applications as it is extremely resistant to oxidation, U.V. Rays, Water, Weather and Ozone. However, EPDM does not have good oil resistance or adhesion properties. It is resistant to many chemicals and solvents and shows good resistance to many corrosive chemicals. It is also used for roofing sheets and weather strips. We provide the same in a wide range as well as at an affordable price.

If required, we supply technical rubbers in the form of semi-finished or finished products. Most of the standard technical rubbers in our range are permanently in stock, so we can offer not only very short delivery or production times, but also the possibility of producing atypical variants from a single piece.
Delivery times: It mainly depends on the batch size and the complexity of products. Our standard delivery time is usually no more than one week of placing the order. Given our warehouse stock we are able to offer production on short notice in emergency situations.
EPDM Rubber sheet – Commercial grade:
SPECIFIC GRAVITY

HARDNESS




(±5)

TENSILE STRENGHT (MIN) 

ELONGATION AT BREAK (MIN)

ABRASION RESISTANT

COMPRESSION SET




70 °C/22 h

TEMPERATURE RANGE

gm / cm3

Shore A

kg / cm2

%

mm3 10N

%

°C

EP 60

1.30

60

60

300

–

35

-30 – +100

EP 65

1.35

65

60

250

–

35

-30 – +100
STANDARD SIZE

COLOUR

WIDHT: 1.2 / 1.4 / 1.5 Mtr

LENGHT: 10 Mtr
NOTE

1). One side or both side smooth or fabric finish can be supplied.


2). Specifications are subject to change without notice.